Everyone loves a home-cooked family meal, but without regular oven cleaning, your cooking appliances could leave a bad taste in the mouth. Burnt-on grease and food can build up and cause nasty odours to taint your food and affect the hygiene of your kitchen, but with our oven cleaning service, your oven can be restored to showroom freshness.
Our service is designed to take away the hassle of cleaning your oven and to give time to concentrate on the things in life that really matter, like cooking delicious food!.

Our cleaning technicians use eco-friendly chemicals and we provide our customers with affordable and competitive oven cleaning service.  Click here to check our competitive prices.
Call us, we at Sky Cleaning London will be happy to answer any questions you might have, and we will offer you a free quote.
Our aim is to keep our customers satisfied, therefore, we are friendly and happy of what we do. Our teams are fully insured and we guarantee an efficient oven cleaning, removing all grease and fat.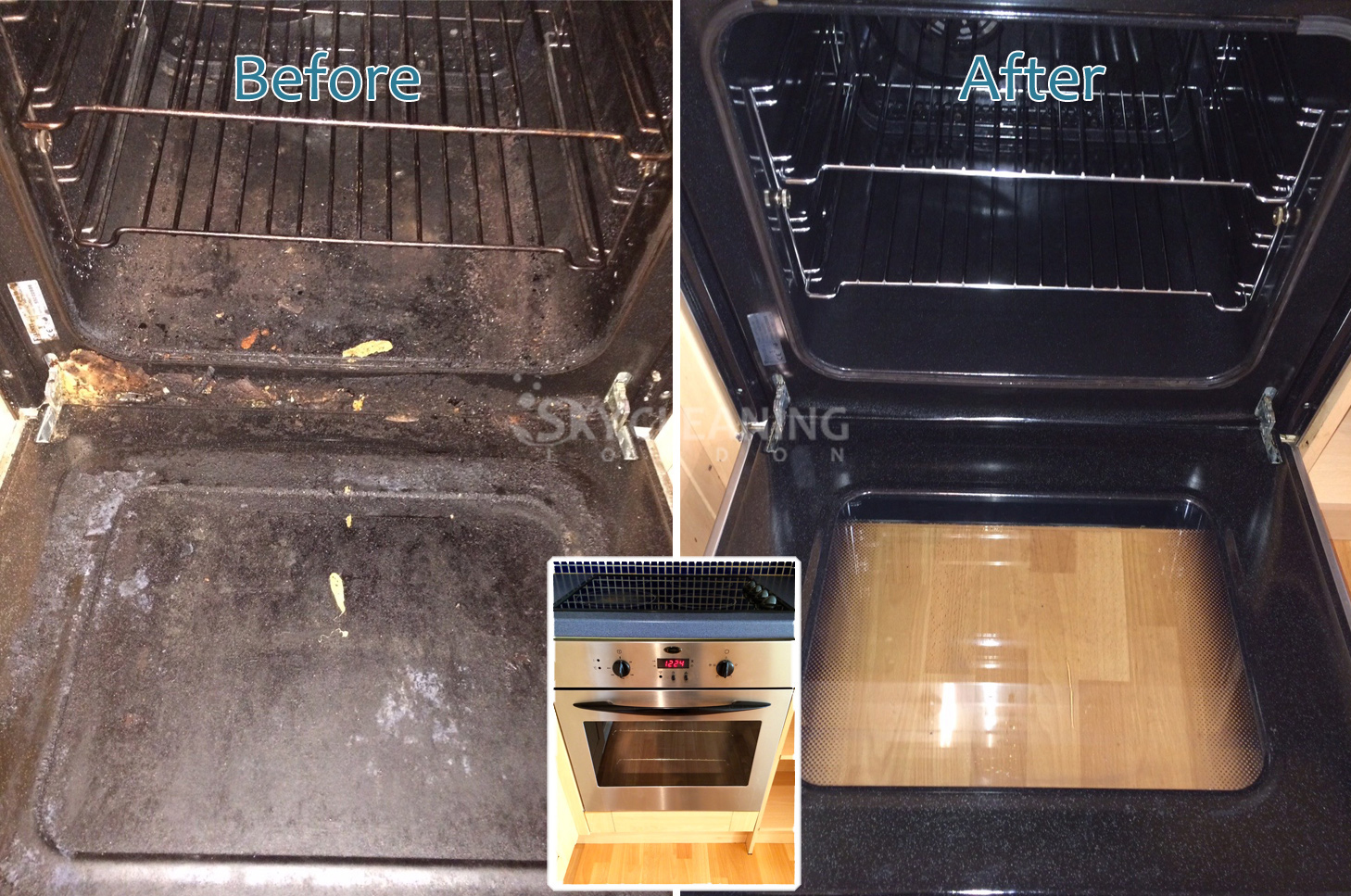 Oven cleaning step by step:
 Removing all detachable parts

 Washing them thoroughly in a mix of water and eco-friendly detergent

 Using tools and detergents to clean the oven and restore its sparkle

 After we complete the cleaning your oven is ready for use
Give us a chance to clean your oven for you and you can benefit from newly looking crystal clean appliances.
You can now cook your favourite foods without worrying about the consequences of dirt and grease.
Our oven-cleaning service package includes:
Oven cleaning

Range and stove cleaning
Hob cleaning

Extractor hood cleaning

Grill cleaning

Microwave cleaning
At Sky Cleaning London use the most effective but environmentally friendly cleaning products, which do not contain dangerous chemicals. Our methods of oven cleaning are safe and effective and do not damage the environment in your home.
Please note, that cleaning a standard oven usually takes 1 hour, however, others can take up to 3 hours. Our cleaning technicians will advise you before commencing how long it will take. Also, our cleaners will make sure that they leave your house tidy during and after the cleaning process. We guarantee that our experienced cleaning technicians will leave your kitchen clean and safe.
We work 7 days a week, so just choose your day Call us now for free non obligatory quote on
07446141248 or email us here